The serious decline of Britain's much-loved hedgehogs makes them of conservation concern. Reasons for their decline include changes in land use reducing access to suitable nesting sites and habitats for shelter and hibernation. Fewer field boundaries and a higher use of pesticides means less invertebrate prey for them to feed on with evidence showing they are now particularly scant across arable farmland and more likely to be found in towns and villages.

As a key indicator of a healthy and sustainable biosphere, the absence of hedgehogs is a serious concern. The Living Coast in which we live is a place where people and nature come together so recent announcements by Communities Secretary James Brokenshire MP on changes to development proposals are excellent new. The changes mean house builders will now have to include hedgehog highways and consider the long-term impact on the local ecosystem in all new developments.
The announcement comes as a result of a petition set up by Hugh Warwick from the British Hedgehog Preservation Society which more than half a million concerned people signed.
The Communities Minister met with Housing Minister, Kit Malthouse MP, to propose and agree adding a condition to planning guidelines for all new developments to include hedgehog highways.
The announcement read: "From submitting proposals to councils to then building new homes, house builders should think about the long-term impact of their developments on the local ecosystem, both during and after construction."
"This includes greater emphasis on using innovative ways to allow nature to thrive - such as drainage areas to create attractive wetlands for birds and amphibians to live alongside people."
Hugh Warwick said, "The fact we have got the government to change planning law is a great victory for hedgehogs and for the wildlife-loving public who put their political muscle behind this campaign."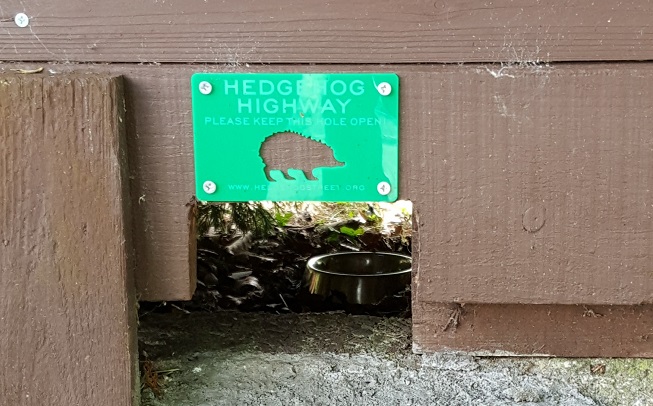 Modern building developments often include sold fences and walls which mean hedgehogs struggle to travel the distance they need to to find food and mate. Ensuring hedgehogs can pass freely through your garden is the most important thing you can do to help them thrive in urban areas. Installing 'Hedgehog highways' is a simple move we can all make in our own back gardens and the news that all new developments will now include these is a great win for our prickly little friends.
More on hedgehogs locally:
Become a hedgehog helper with East Sussex Wildlife Rescue & Ambulance Service
Hedgehog first aid from Sussex Wildlife Trust
Facebook - Hangleton & Knoll Hedgehog Group